Xiaomi is going to introduce the Xiaomi smart band 8 in the world market, and today the prices and release date in Europe are revealed
---
This fitness tracker was first launched in China and is now preparing to launch globally. Before the official announcement of Xiaomi, the big Polish store X-COM has already listed the device on its page with all the details.
According to the list posted on the store's page (which has now been removed), the Xiaomi smart band 8 will be available October 3rd. It will cost 199 PLN, i.e. roughly equivalent to €45 or $49 after currency conversion. This pricing will include Poland tax, which means it might be priced less than $40 in the United States.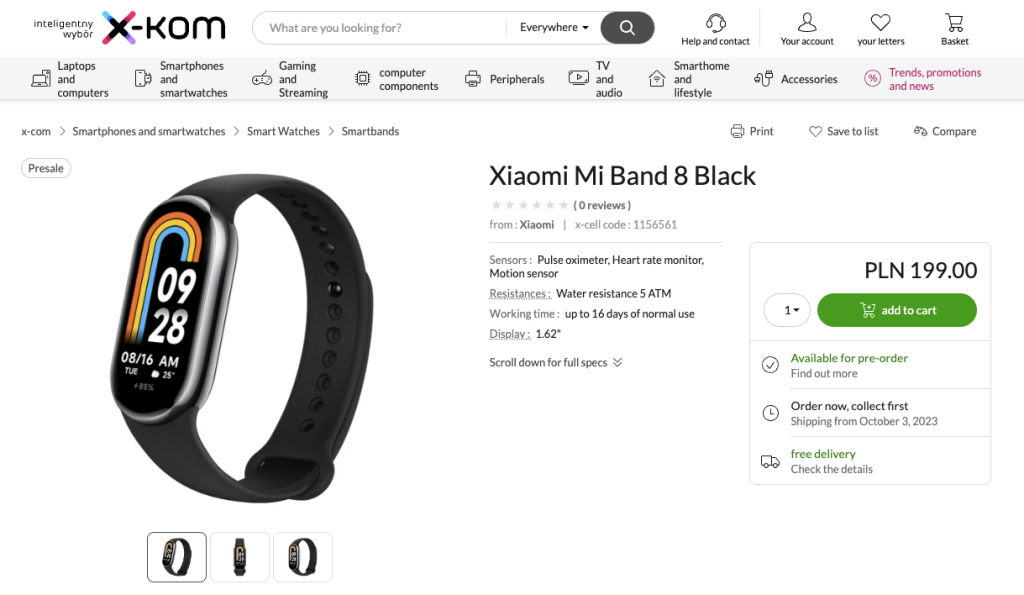 Xiaomi Band 8 : The main features
Design and display: The Xiaomi Smart Band 8 maintains its elegant appearance with a 1.6-inch AMOLED display. It offers a bright screen with function Always-On Display (AOD) and is waterproof up to 50 meters, and is suitable for various activities, including swimming.
Adjustable straps: Unlike previous models, the Band 8 has the ability to accommodate various strap options, such as leather, woven leather, like a hollow bracelet, and the classic straps of TPU. It can even be worn as a pendant or necklace with a matching accessory or even worn on shoelaces.
Upgraded fitness tracking: The smart band 8 is equipped with sensors to monitor the heart rate, has SpO2 sensor to measure blood oxygen, but it can also monitor sleep quality and the menstrual cycle for women. It also measures stress levels and provides data on VO2 Max. It has many specialized functions such as interactive boxing mode and special running mode offer detailed information about specific activities. With support for more than 150 different sports activities, can cater to a wide range of fitness enthusiasts.
Fun and convenience: In addition to fitness tracking, the Band 8 also includes built-in games such as Sudoku and 2048 for moments of relaxation. It also acts as a notification hub, providing you with weather updates and other essential notifications.
Battery efficiency: Xiaomi claims the Band 8 can last up to 16 days on a single charge with it disabled AOD, thanks to the big battery at 190mAh that supplies.
---
Do not forget to follow it Xiaomi-miui.gr on Google News to be informed immediately about all our new articles! You can also if you use RSS reader, add our page to your list by simply following this link >> https://news.xiaomi-miui.gr/feed/gn
Follow us on Telegram so that you are the first to learn our every news!
Follow us on Telegram (

English Language

) Telegram to be the first to learn our news!
---