Today this Geekbuying we have an incredible offer that you should not miss (only 10 pieces left), as he suggests her JIMMY H10 Pro Flexible Smart Handheld Cordless Vacuum Cleaner in €294 with the coupon NNNJMH10PF from Europe and with free shipping.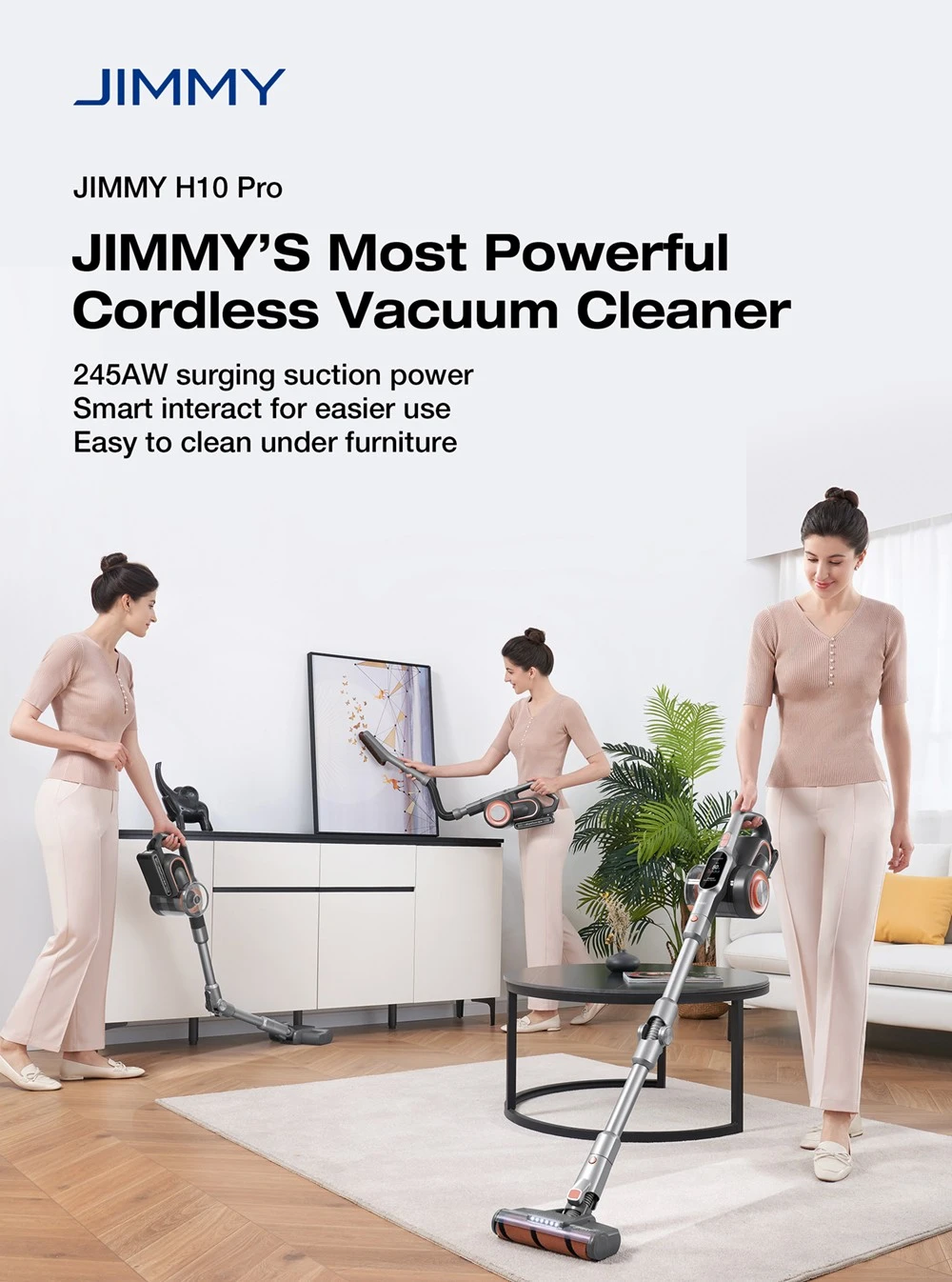 Powerful motor with strong suction at 26Kpa
It is powered by a powerful brushless electric motor 650 which provides suction power up to 245AW (26Kpa)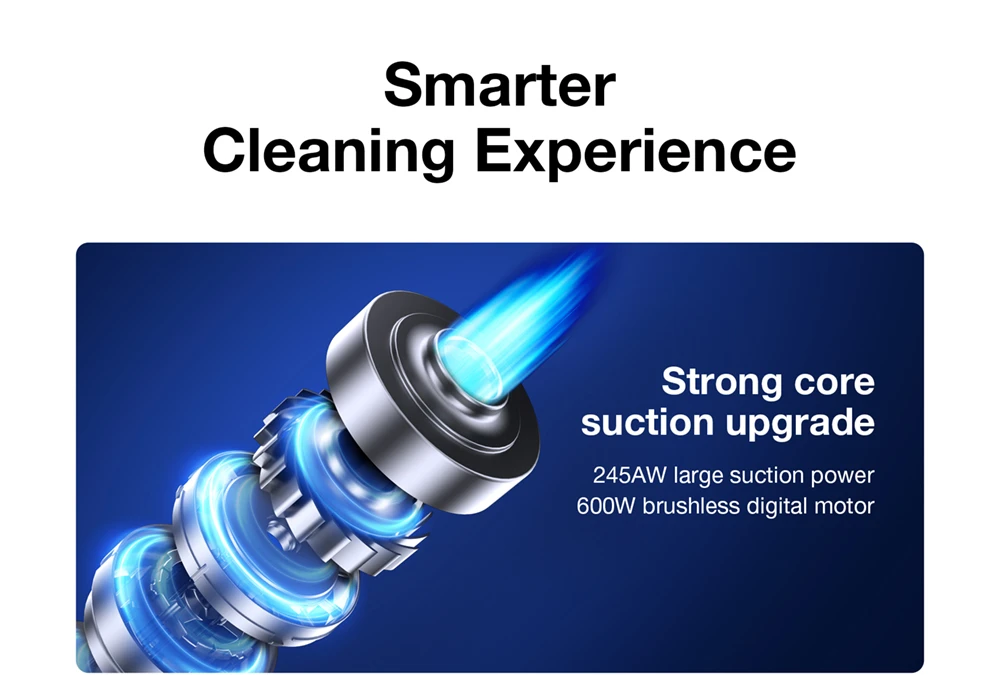 Up to 90 minutes of autonomy
It is equipped with 8 large capacity batteries at 3000mAh, and the maximum operating time can reach 90 minutes.
Autonomy with the Electric floor head:
Eco Mode: 60 minutes
Turbo Mode: 22 minutes
MAX mode: 12 minutes
The autonomy without the Electric floor head:
Eco Mode: 90 minutes
Turbo Mode: 29 minutes
MAX mode: 17 minutes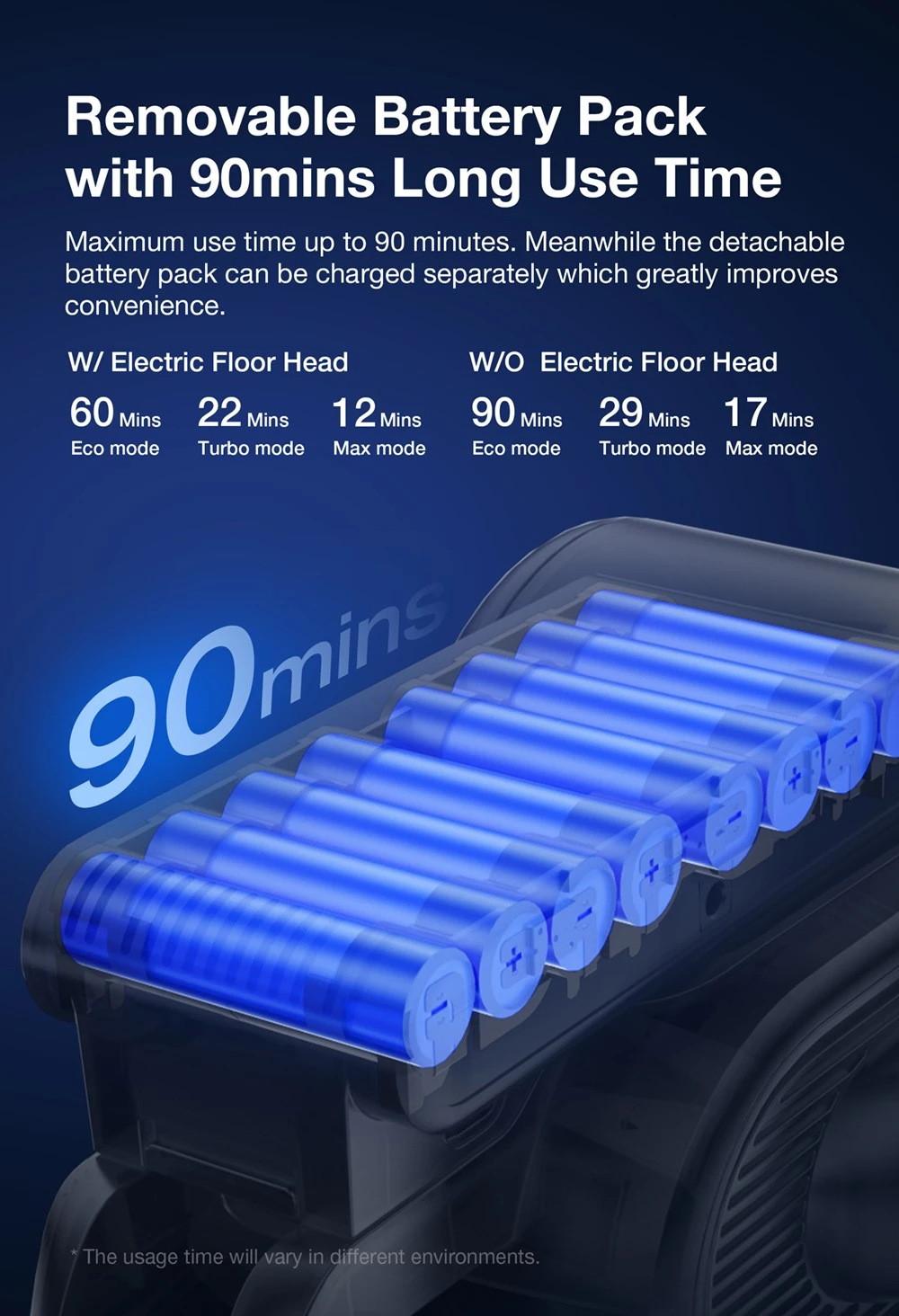 Excellent horizontal filtration system
Efficient separation of dust from air and reduction of suction loss is possible with the horizontal filtration system.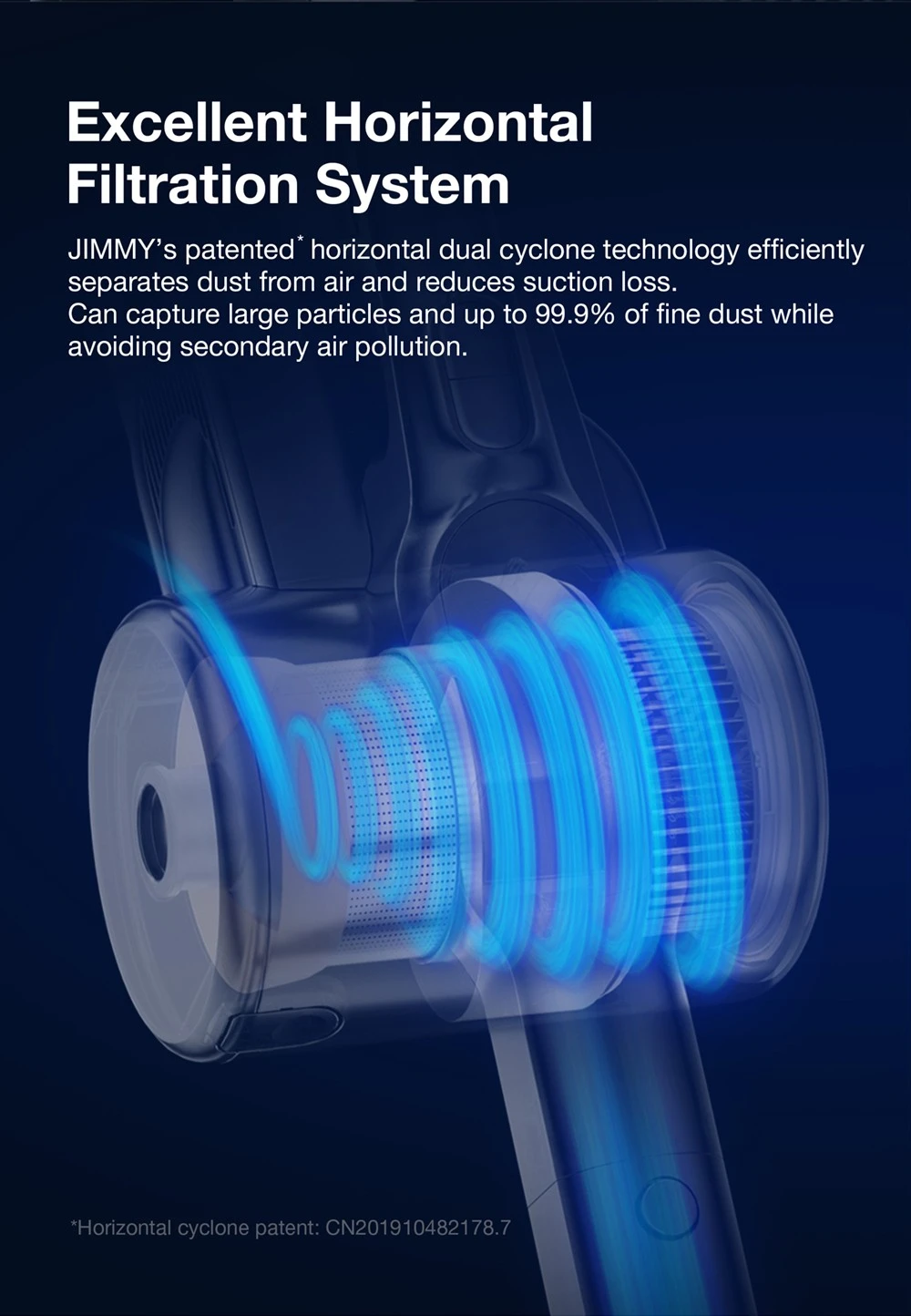 It can bind both large particles and up to 99,9% of fine powder, while avoiding secondary air pollution.
Smart dust sensor
It can clearly reveal the dust level of 4 different particle sizes.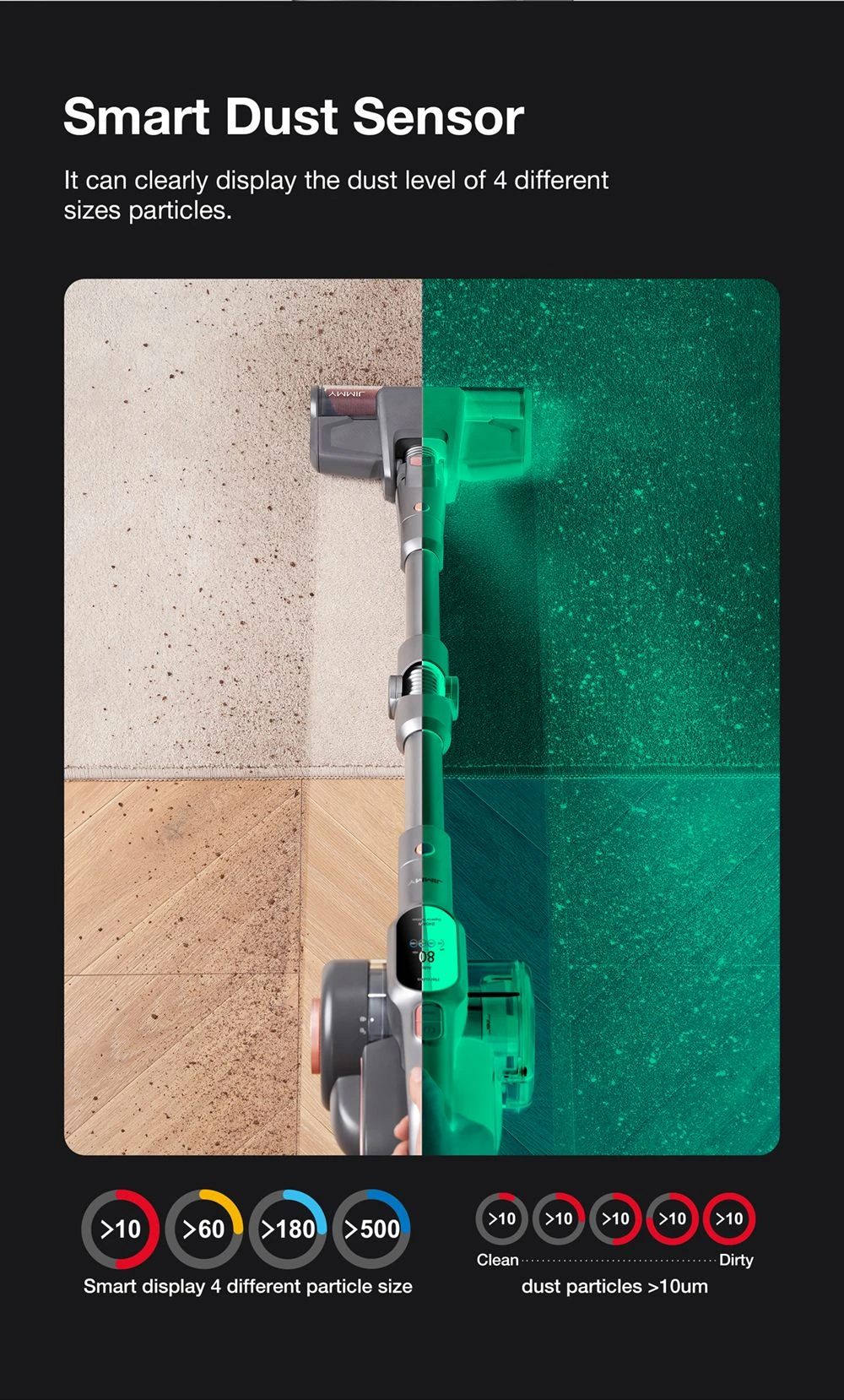 LCD display
The LCD display shows the remaining operating time, the power mode you have selected, the dust concentration and the trouble report.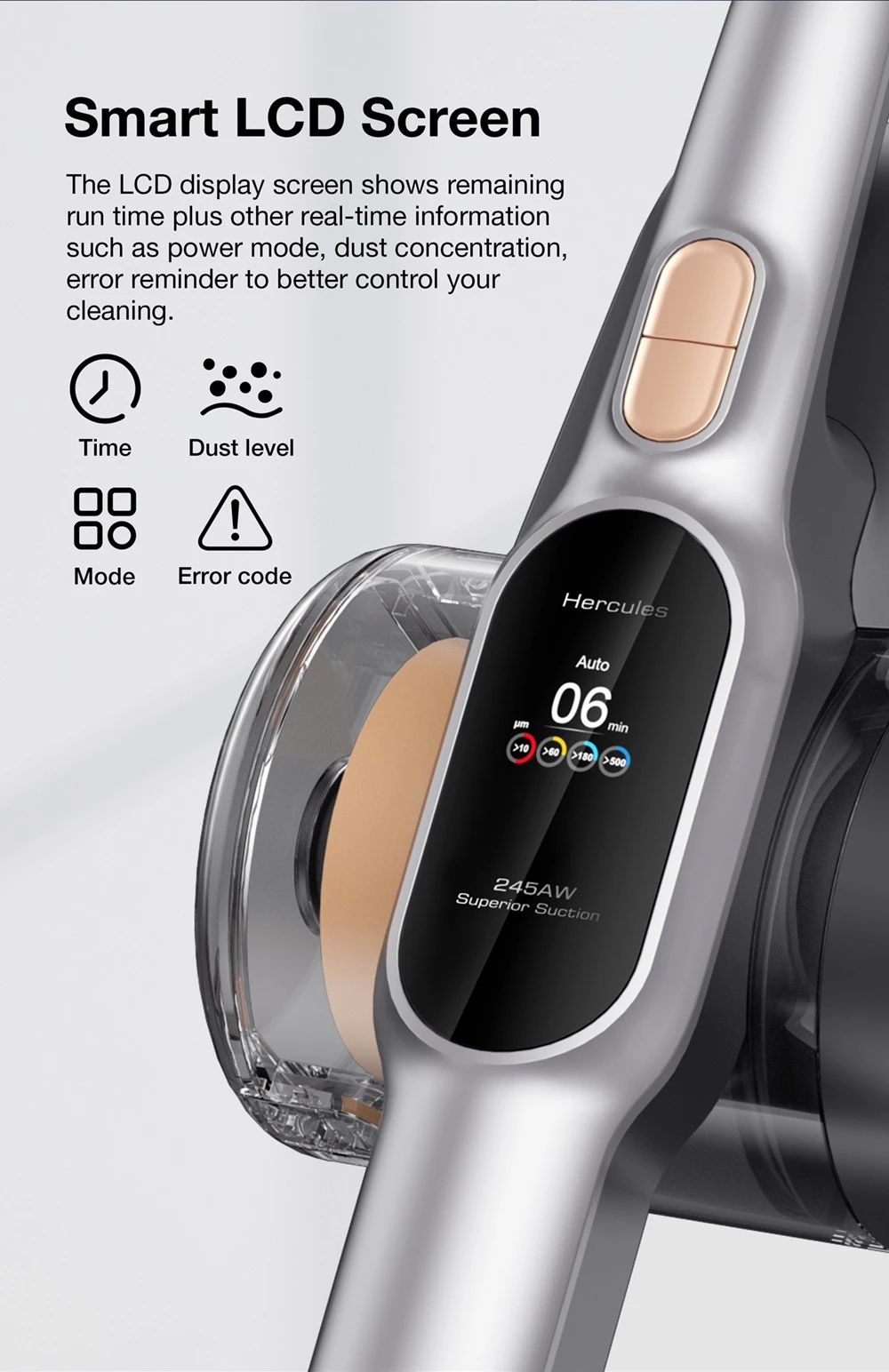 Voice reminder
It is equipped with a voice system to give you useful reminders when cleaning.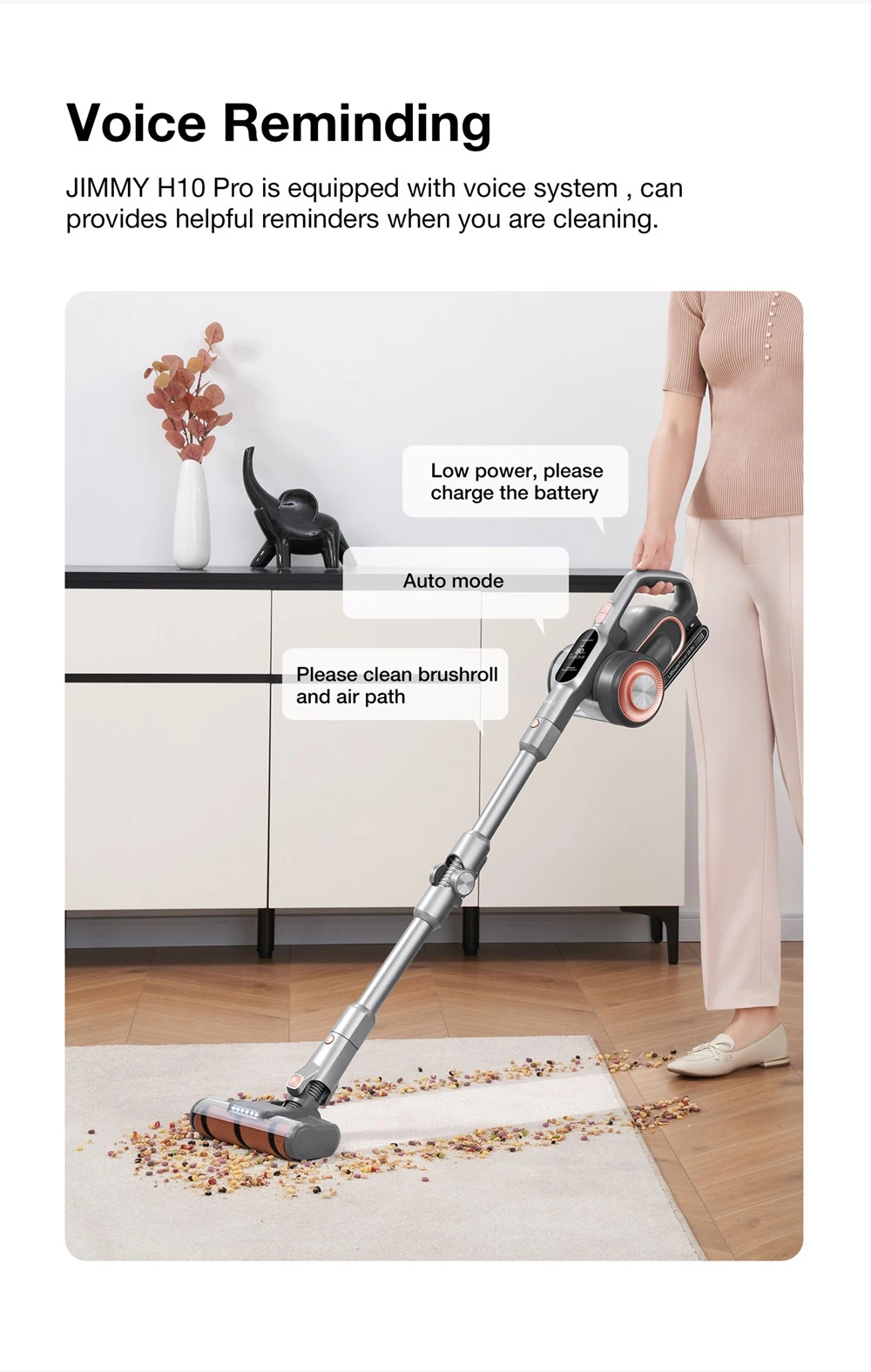 Automatic power adjustment for different floor types
In automatic mode, JIMMY H10 Pro can adjust the correct suction power for more effective cleaning and longer operating time, depending on different dust levels and types of floors.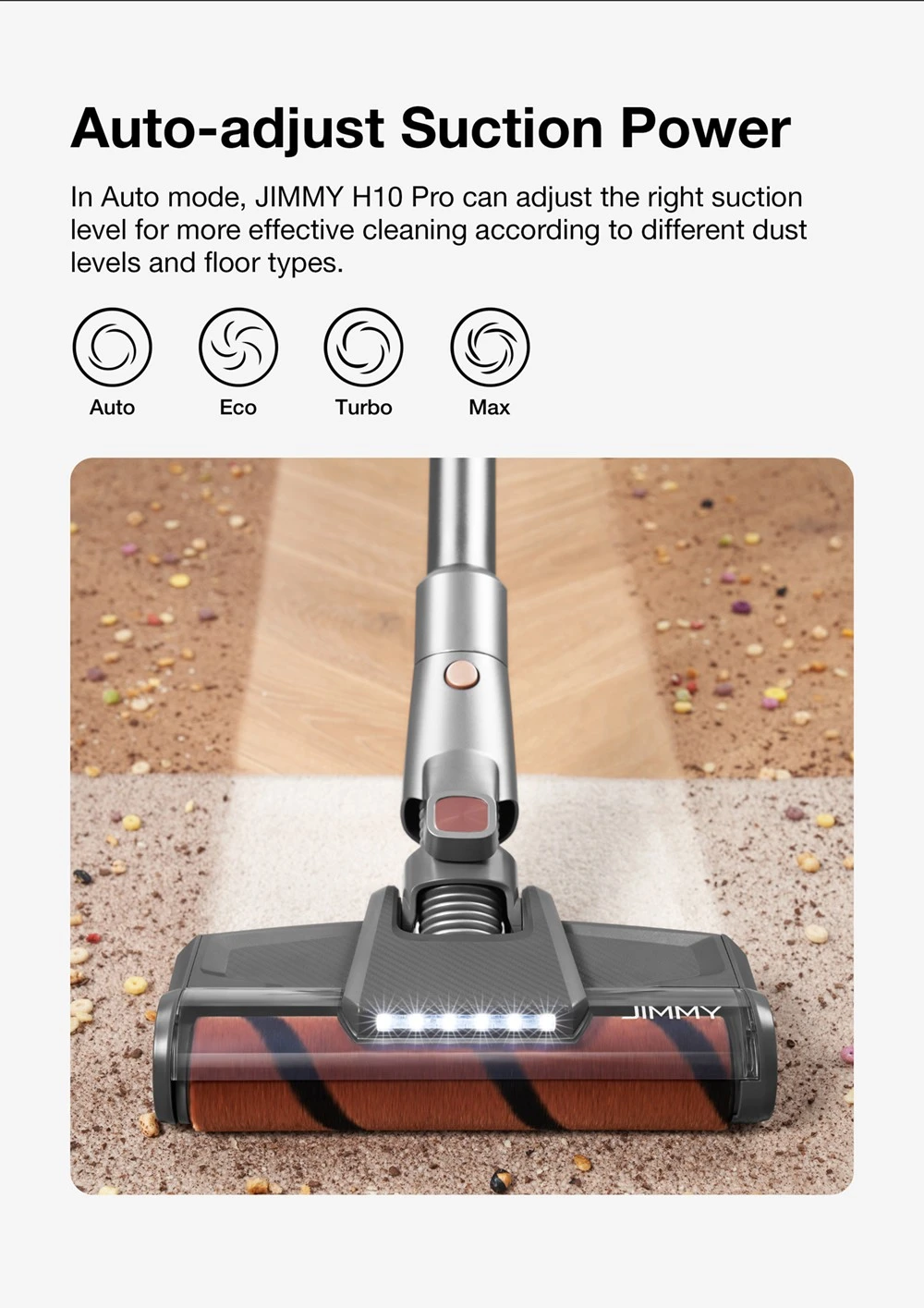 Flexible metal tube for easy cleaning under furniture
The flexible metal tube automatically moves to different angles when cleaning different areas and is able to clean under furniture with less effort.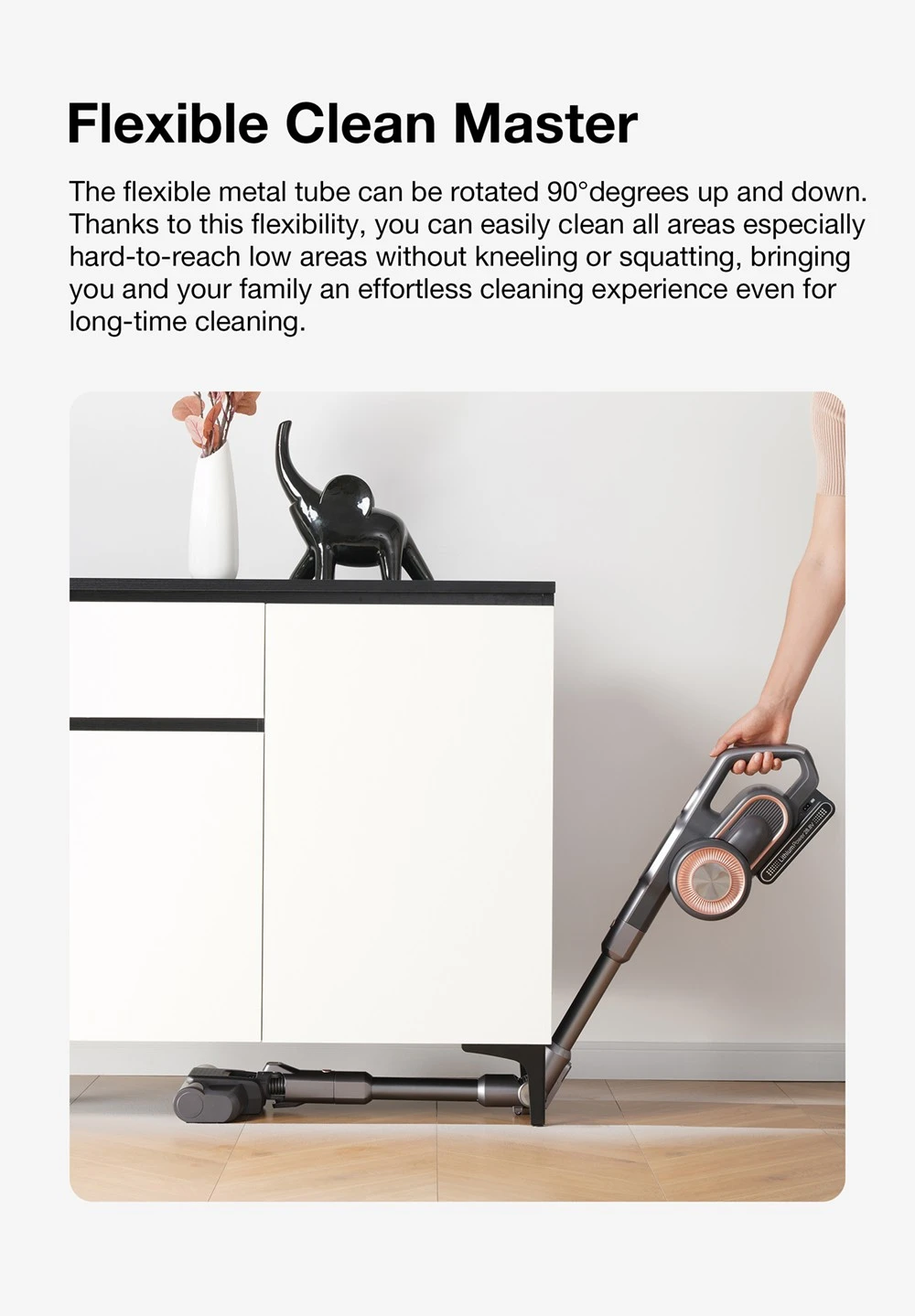 6 LED headlights
Comes with me 6 LED headlights and the ability to clean dark areas under beds, tables and narrow places is greatly improved.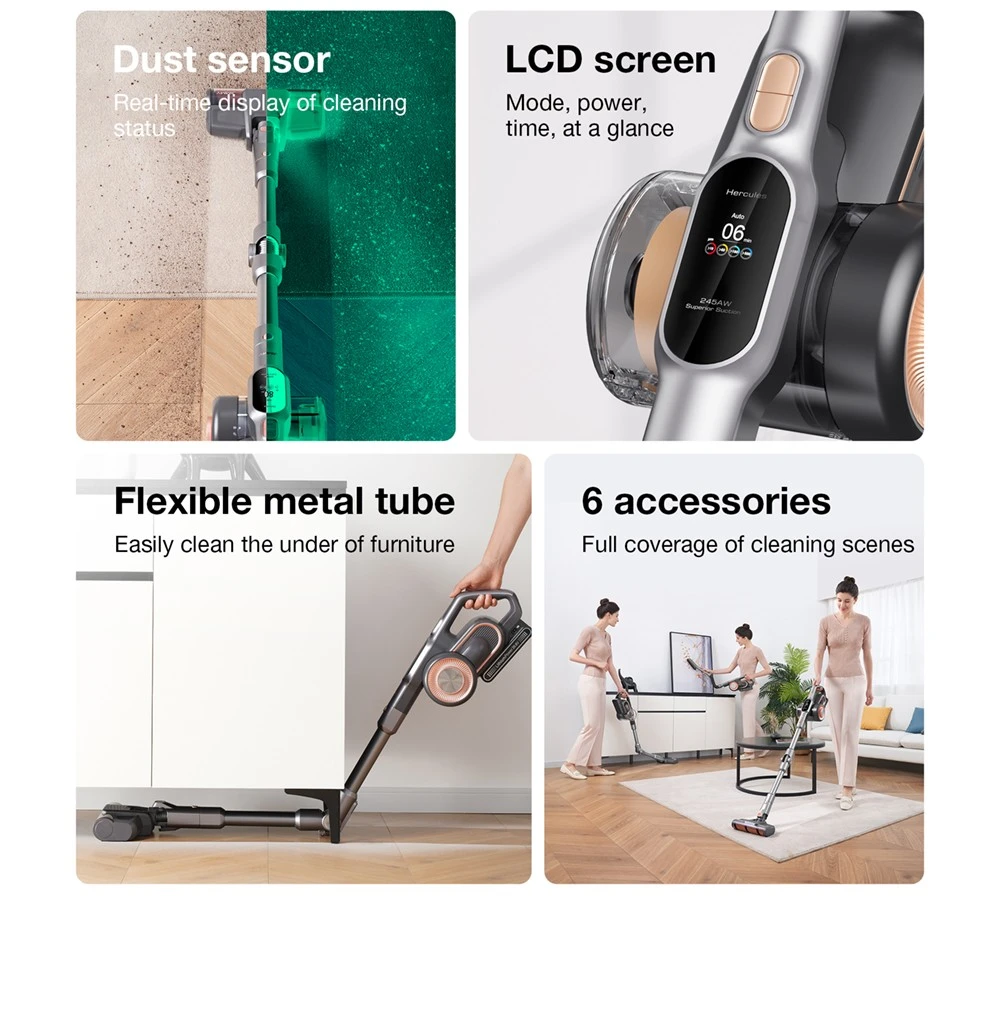 Removable battery
The battery can be charged separately and the charging dock can provide charging and storage at the same time.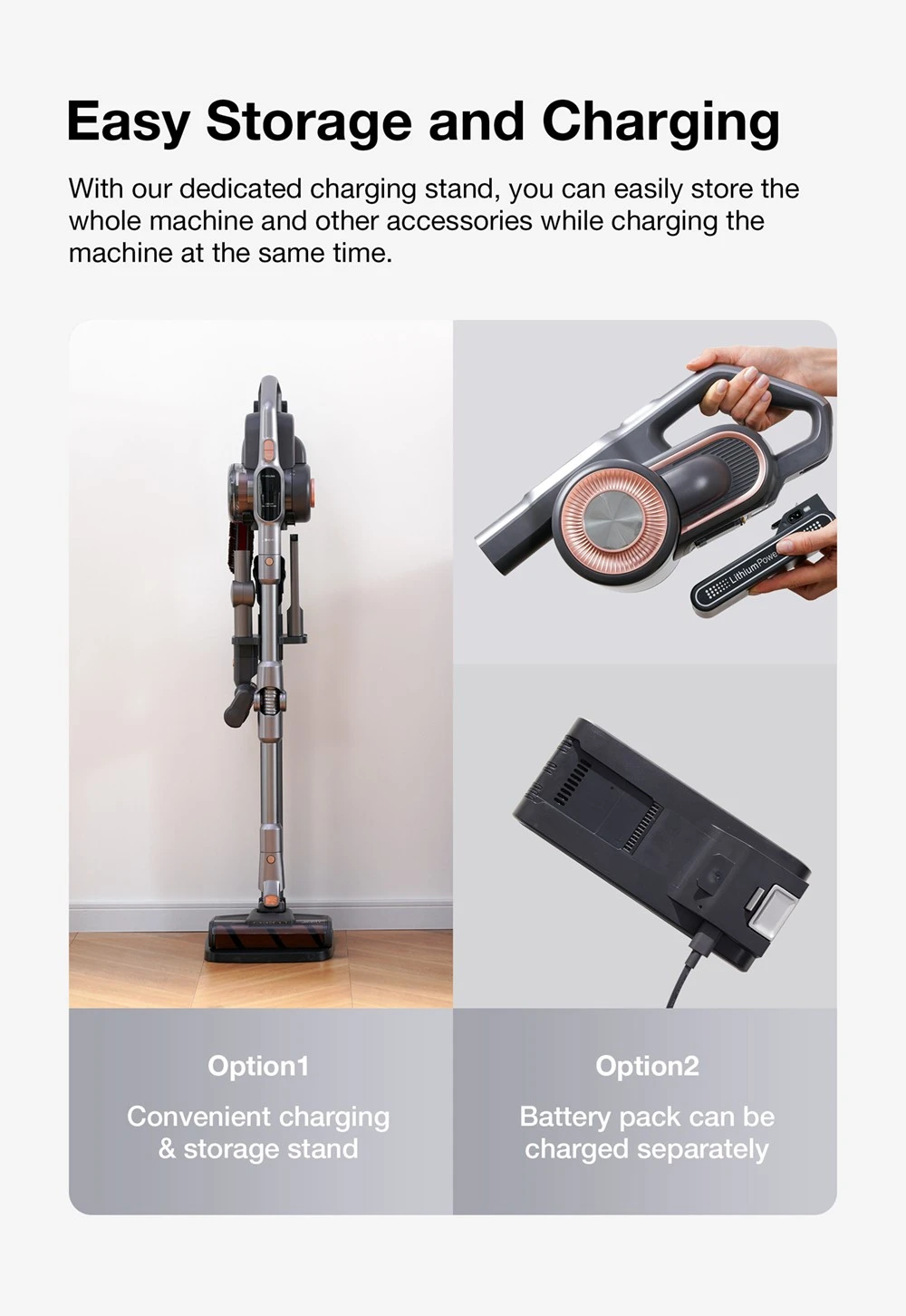 Flexible accessories for cleaning
The electric mattress head to remove dust, pet hair and dust mite from bed and sofa.
The soft brush for surfaces that need gentler care.
2 in 1 upholstery accessory for furniture surfaces.
2-in-1 narrow tube for the narrow parts.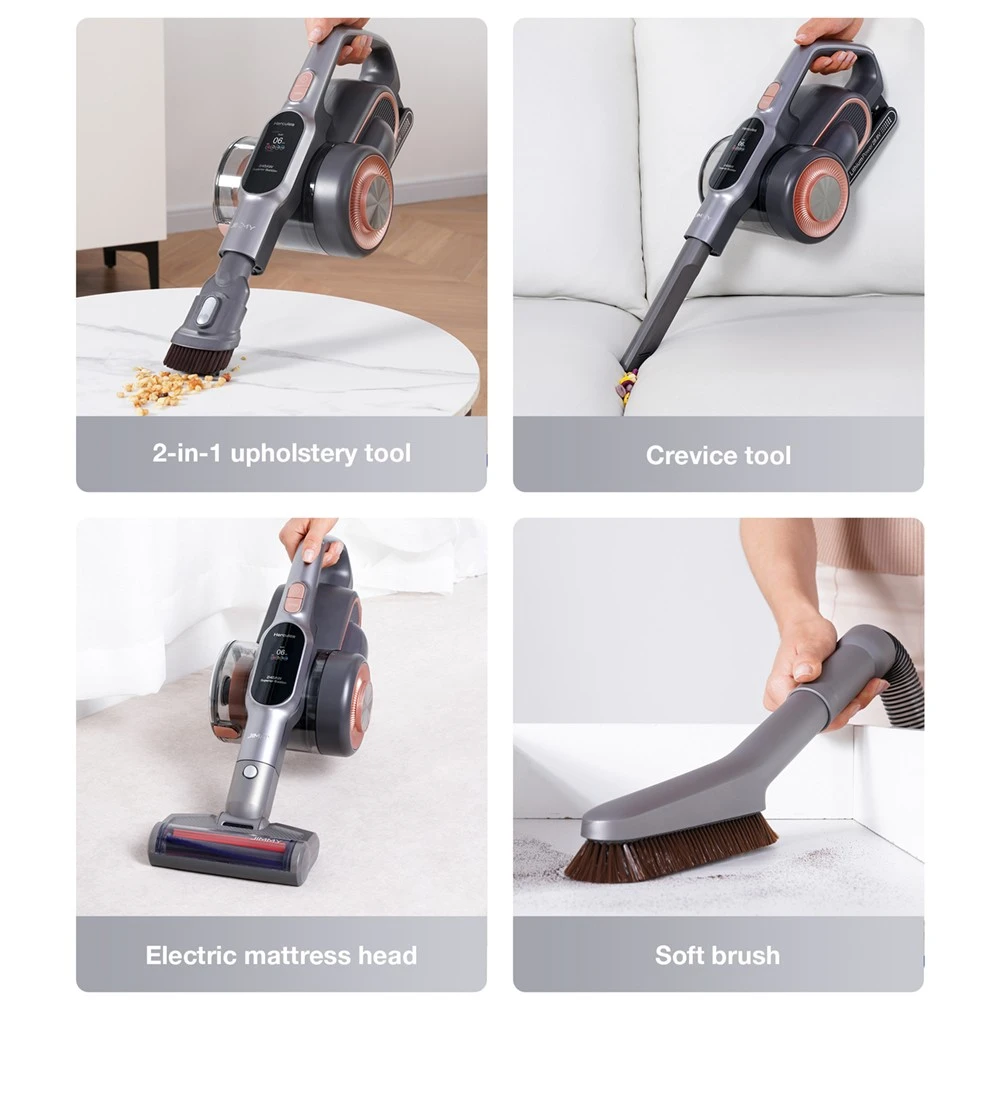 Note: The GeekBuying offers a guarantee 2-year-old for JIMMY H10 Pro.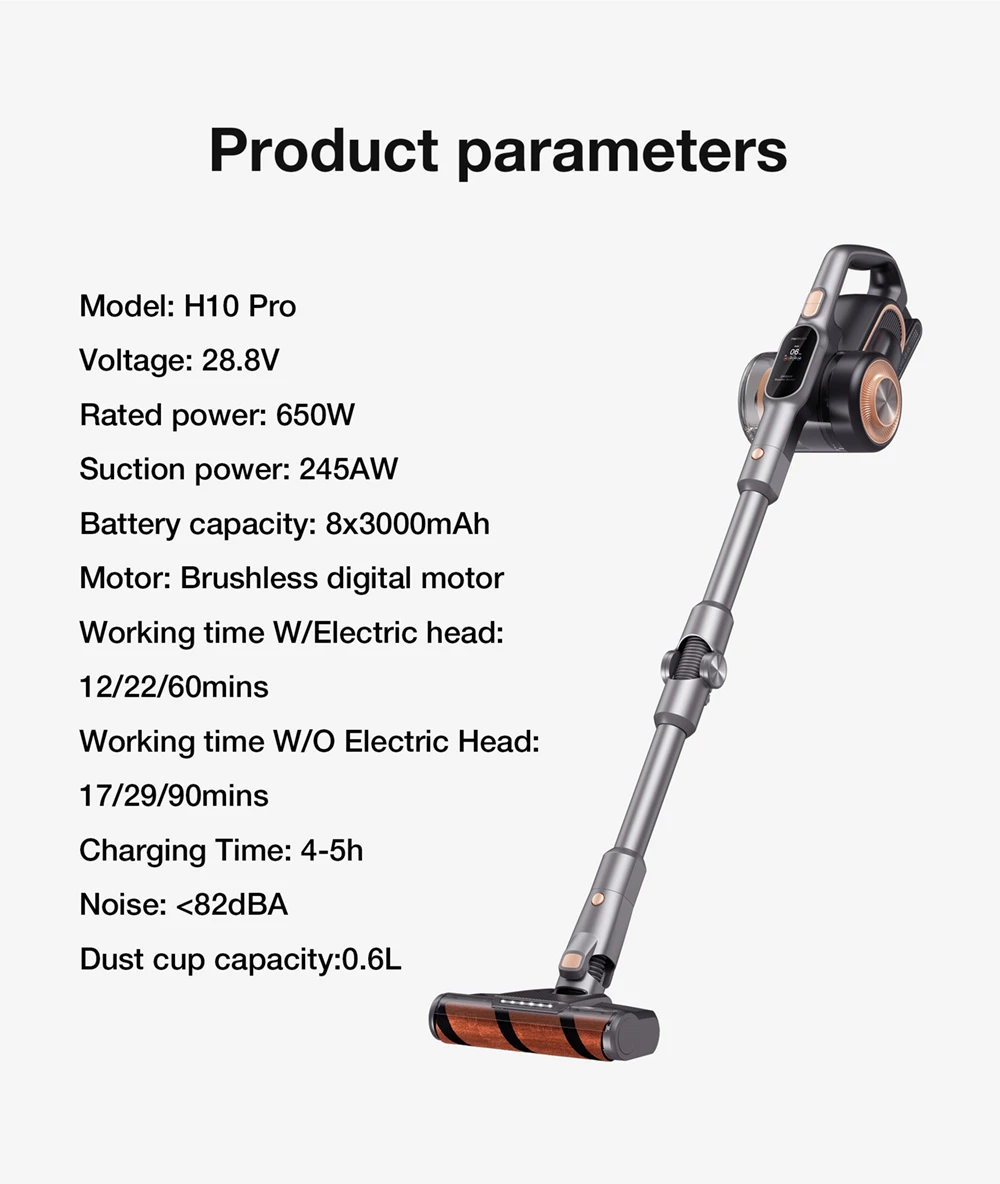 Specifications
Brand: JIMMY
Type: Handheld Vacuum Cleaner
Model: H10 Pro
Color: Silver
Rated Power(W): 650
Rated Voltage (V): 28.8
BatterySpecification: 8x3000mAH, 86.4WH
Handheld Run Time: 90min Max
Charging Time: 4-5H
Suction Power: 245AW
Suction Pressure: 26 Kpa
Noise: 82dBA
Way of Dust Collection: Dual-cyclonic
Dust Cup Capacity: 0.6L
Display Screen: LCD
Dust sensor: Yes (4 different dust sizes as Dyson V15)
Auto Mode: Yes, Auto power adjusts with different dust content and different floor type
Voice Reminder: Yes
Inlet Filtration: HEPA
Removable Battery: Yes
Battery Charging Base: No
Way of Charging: Stand charger with accessories holder
Electric Floorhead: With LED light
Electric Mattress Head: Yes
Wet Mopping Kit: Optional
Carpet Brushroll: Yes
2-in-1 Upholstery Tool: Yes
Crevice Tool: Yes
Metal Tubes: Flexible
Soft Brush: Yes
Stretch Hose: Yes
Connector: Yes
Product Weight: 8.6kg
Package Weight: 10.2kg
Package Size (L x W x H): 755 * 318 * 224mm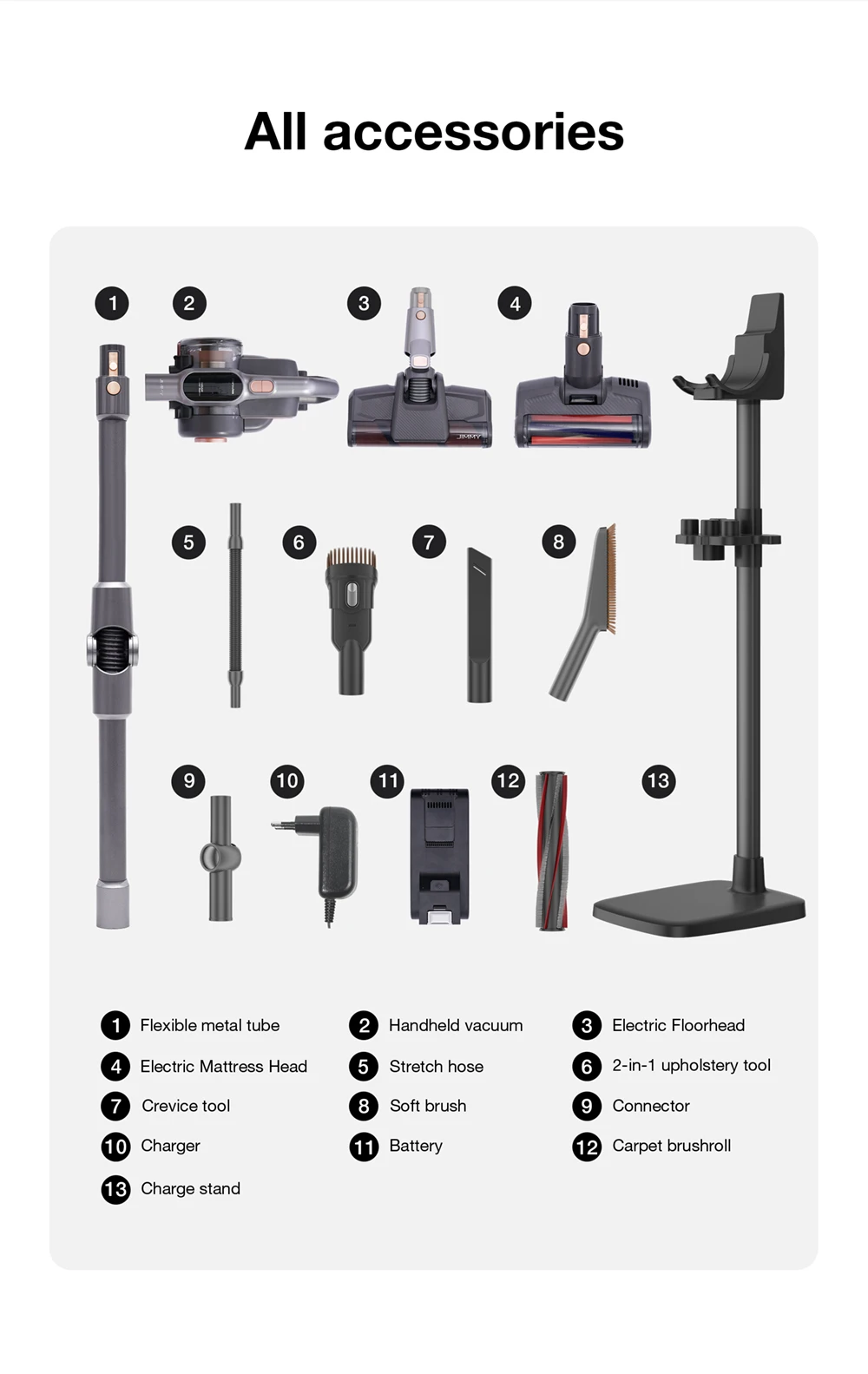 Package Contents
1 x Flexible Tube
1 x Handheld Vacuum
1 x Electric Floorhead
1 x Electric Mattress Head
1 x Stretch Hose
1 x 2-in-1 Upholstery Tool
1 x Crevice Tool
1 x Soft Brush
1 x Connector
1 x Charger
1 x Battery Pack
1 x Carpet Brushroll
1 x Charge Stand
1 x user Manual
---
---
Coupon: NNNJMH10PF
JIMMY H10 Pro Flexible Smart Handheld Cordless Vacuum Cleaner
Details
Get it now from GeekBuying...
€294
JIMMY H10 Pro Flexible Smart Handheld Cordless Vacuum Cleaner
Get it now from GeekBuying...
For shipping from Europe (without customs) we choose Priority Line
Don't forget to take a look at the long list of coupons we've been given today by clicking on the link below.
---
If all this is not enough for you and you want something more, then take a look at the suggestions below that GeekBuying has for you.
---
---
To GeekBuying you can find a multitude of products at very good prices, and you have the option of choosing the shipments for your purchases from Their European warehouses, and with Duty Free Priority Line (No customs)Mission.
Their shipments are fast and support all payment methods (PayPal - and all cards).