Today this Geekbuying we have an incredible offer that it will be valid for a few days, and recommends the robotic vacuum cleaner Roborock S7 Pro Ultra Robot Vacuum Cleaner (Self-Cleaning & Emptying) in €729 with the coupon NNNROBS7PU from Europe and with free shipping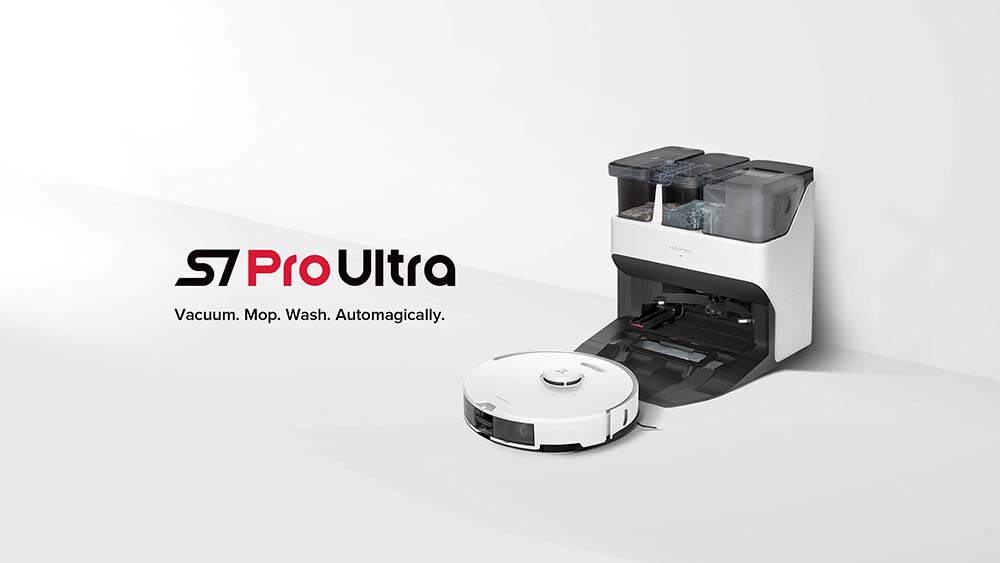 Automatic cleaning – filling and emptying
Η Roborock S7 Pro Ultra has the possibility of washing with scrubbing at high speed (600 rpm), and this unique wash system will wash the mop immediately after mopping and mopping is finished, but will also refill the water tank when needed so it can mop floor surfaces up to 300 sm.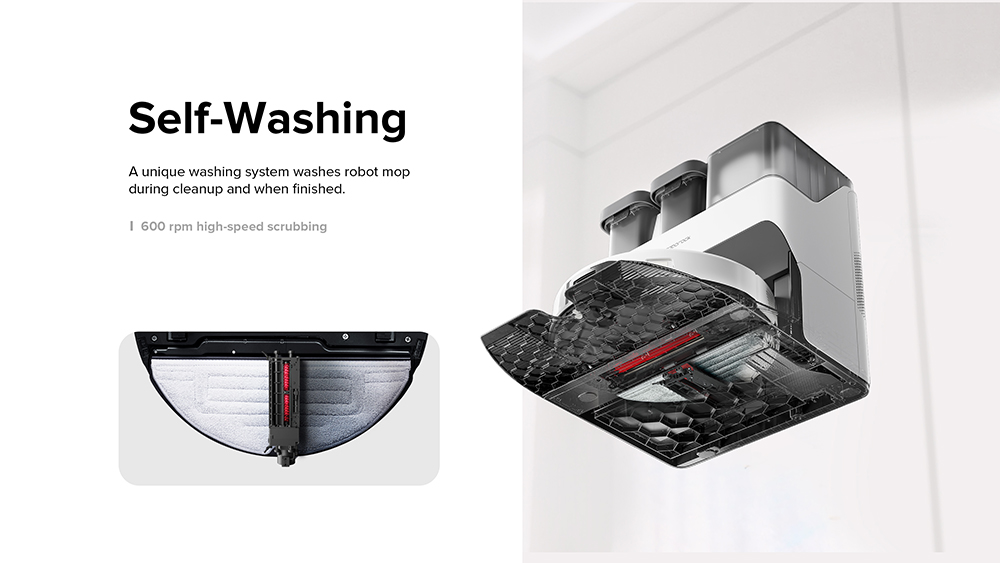 Once it finishes cleaning and returns to its base, it will automatically activate function of emptying the waste bin, and that means you don't need to change a bag for up to 7 weeks.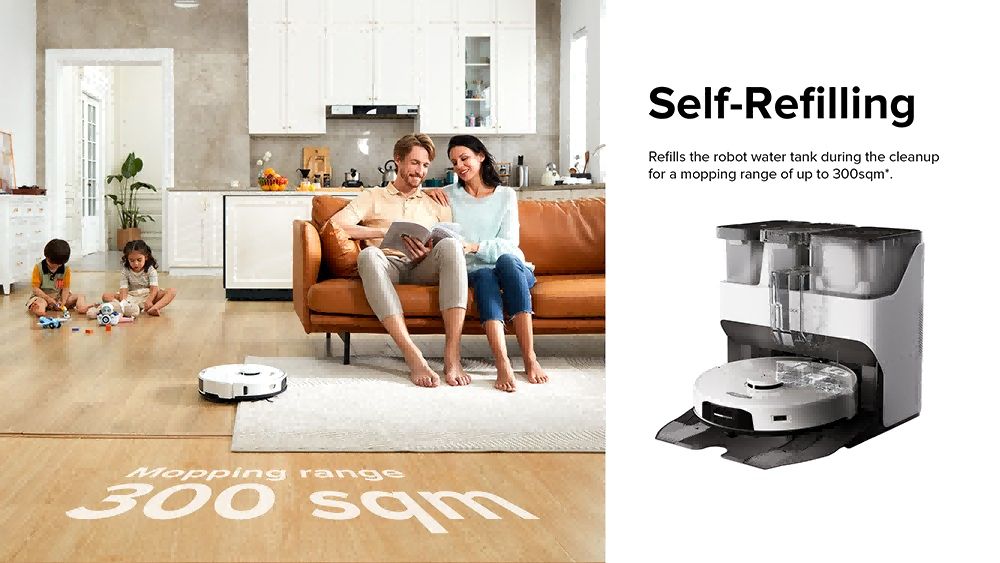 Η self-cleaning function it is designed for the broom to clean itself, which ensures easier maintenance.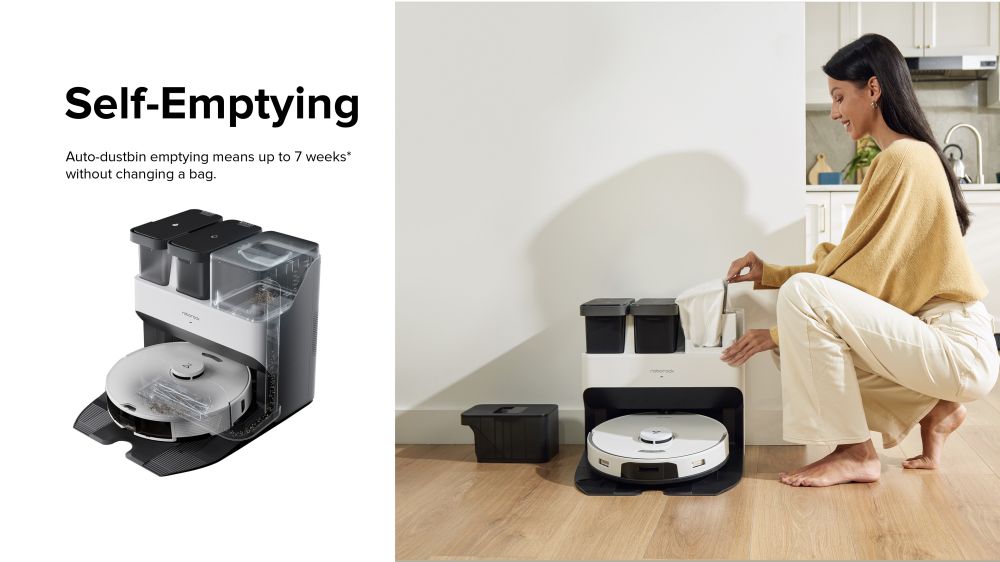 Fast charging
Compared to Roborock's previous charging docks, the new one Roborock S7 Pro Ultra may recharge 30% faster and get back to cleaning your space sooner. This allows the vacuum to make the most of the power it needs by charging the battery during off-peak hours, so you can save money while keeping your vacuum charged and ready to clean.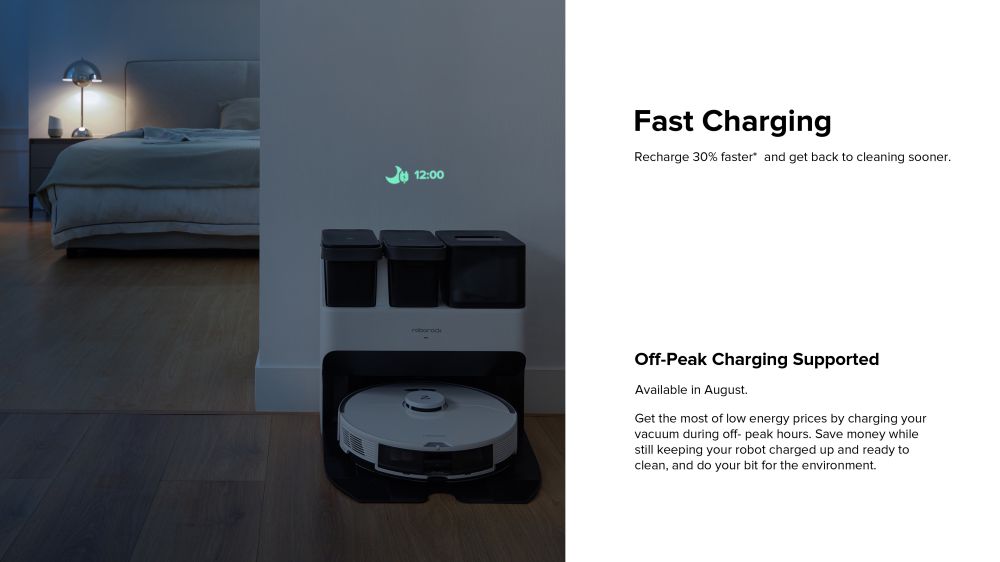 Motor with Strong suction at 5100Pa
New Roborock S7 Pro Ultra he's got more than double the suction power up to 5100Pa, from the 2500Pa that Roborock S7 has. All you have to do is activate it Max+ mode and all that power shall be yours.
Upgraded floating brush
The durable rubber brush effectively tackles the problem of tangled hair left by your beloved pets, while at the same time the brush stays lower on uneven floors through the multi-level floating mechanism.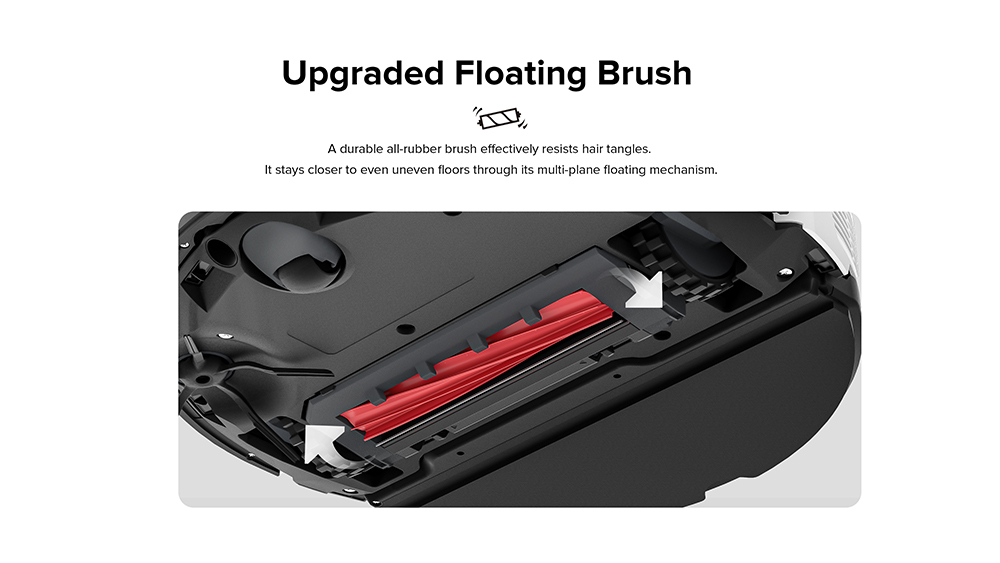 VibraRise® Mopping System
By VibraRise® sound vibration technology, can scrub your floors up to 3.000 times a minute, while in combination with the constant high pressure, the VibraRise® system removes all dry stains 30% more effectively than traditional robot mops and leaves less dirt behind with its rotating mops.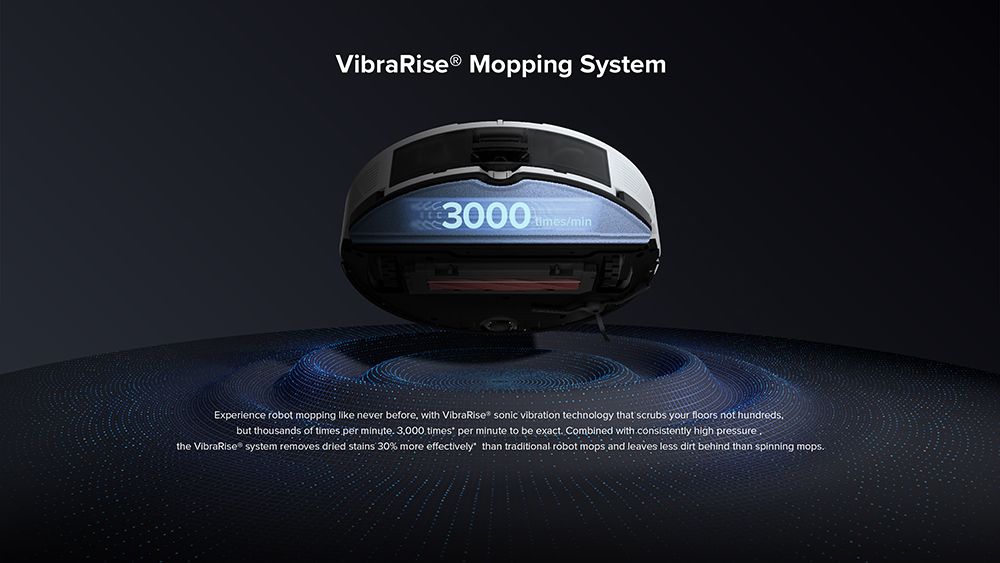 Automatic carpet detection & automatic mop lift
Η smart mop lift means that when a carpet is detected, the mop is raised so it doesn't get wet, and comes back down once it detects a floor. The mop unit can be lifted up to 5 mm and auto lift is only suitable for low height carpets no higher than 4 mm.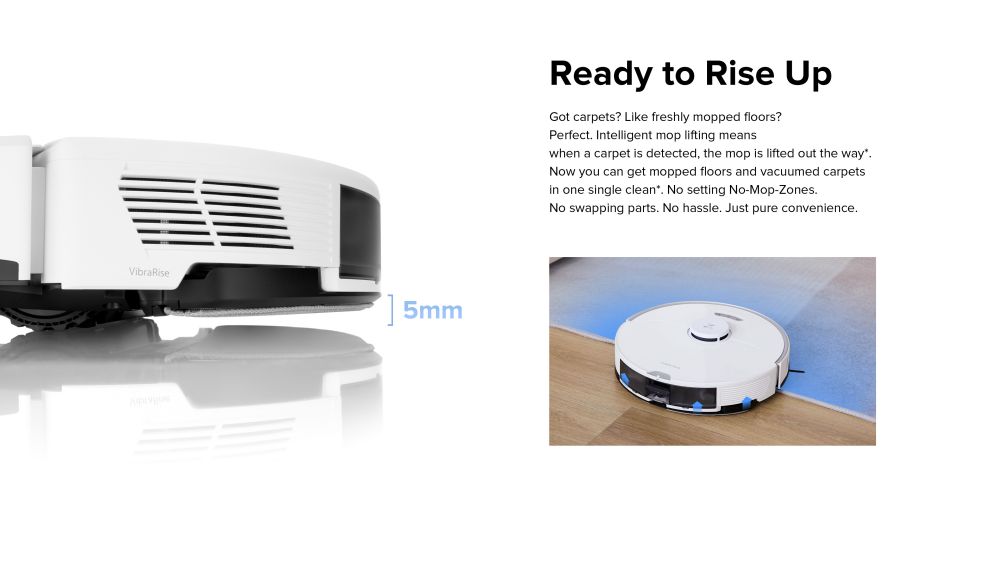 3D mapping and app control
You can design all areas of your home, along with all types of furniture and flooring, directly in the Roborock application that you will install on your Smartphone. Once the mapping is ready, you can view it map in 3D through 3D Mapping and navigate virtually to Martix map. The Matrix map is currently only available on iPhone 12 Pro, iPhone 12 Pro Max, iPhone 13 Pro and iPhone 13 Pro Max.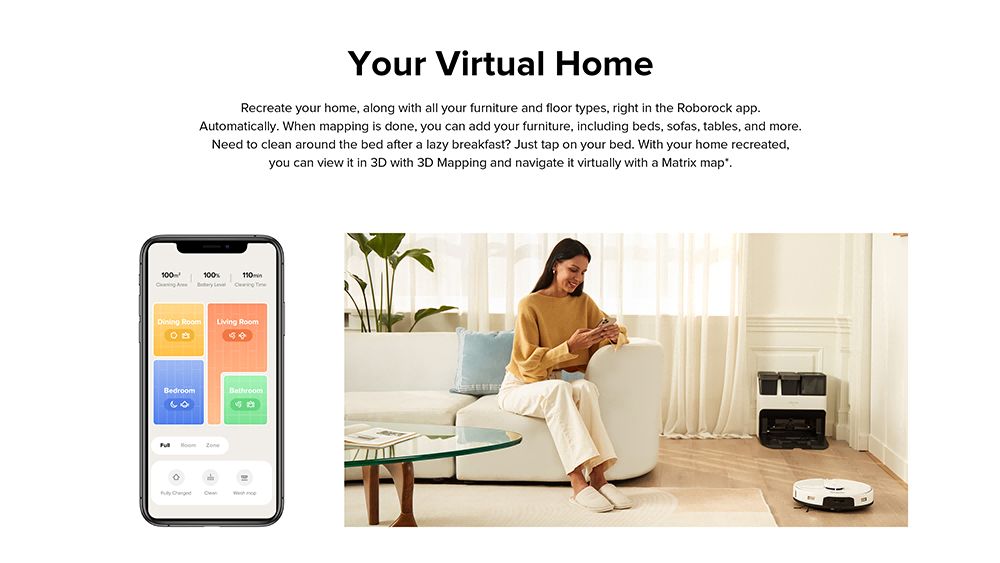 Cleaning routines at the touch of a button
You can set a routine for some frequent cleaning tasks, and then activate the cleaning with the push of a button. You can also add schedules to any routine you set.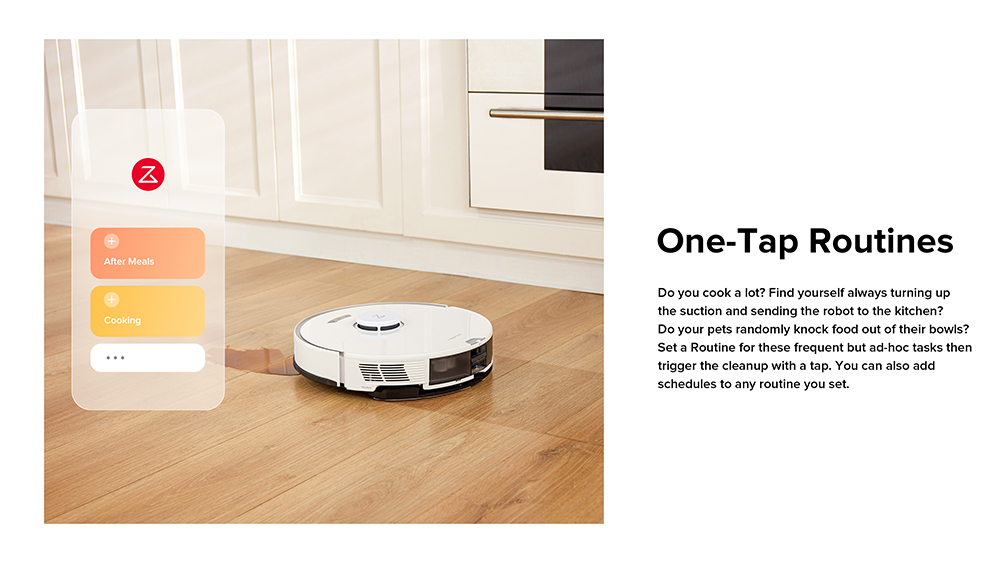 Voice control
It supports them voice commands through the Amazon's Alexa, Google Home and Apple's Siri, which allow you to control the vacuum cleaner with your voice.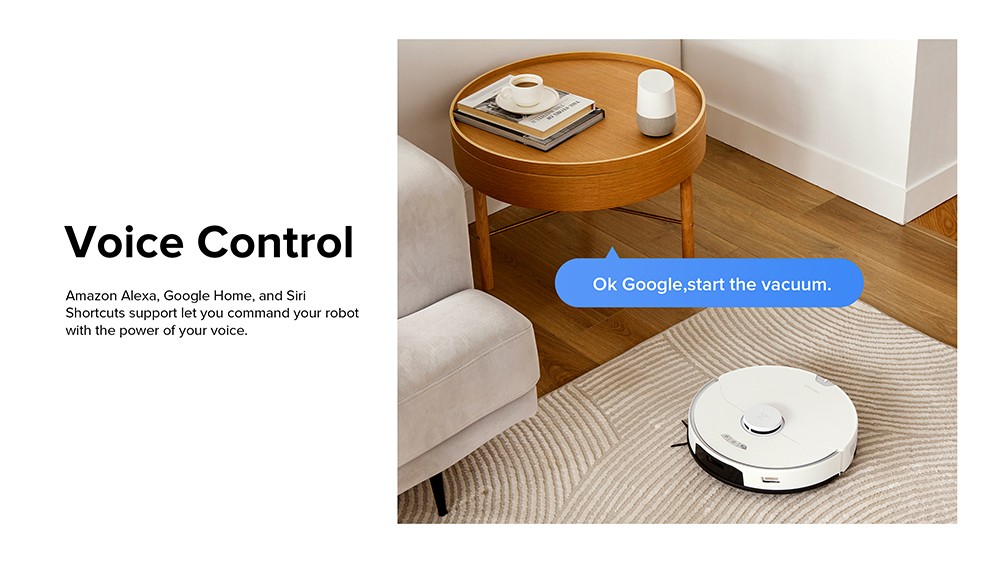 Specifications
Brand: Roborock
Type: robot vacuum cleaner
Model: S7 Pro Ultra
Color: White
Clean Water Tank: 3L
Wastewater Tank: 2.5L
Dust Bag: 2.5L
Navigation: LDS
Route Planning: LDS laser
Max. Suction: 5100Pa
Power: 68
Dustbin Capacity: 400 ml
Water Tank Capacity: 200 ml
Max Run Time: 180 min
Battery: 5200mAh
Max Vacuuming Area: 300sqm
Mopping Area in Default Mode: 300sqm (Actual Mopping Area)
Charging Time: < 4 h
Obstacle Crossing Ability: 2 cm
Noise Level (Balanced Mode): 67dB
Cliff Sensors: 6
Mop Vibration Frequency: Up to 3000 cycles/min
Filtration Efficiency of Dustbin: E11
Sonic Vibration Mopping: Up to 3000 cycles/min
Auto-Lifting Mop: Up to 5mm
Carpet Detection: Ultrasonic
Floating All-Rubber Brush: Yes
Simultaneous Vacuuming & Mopping: Yes
Pressure Mopping: 6N
Carpet Boost Mode: Yes
Electronic Water Tank: Yes
Detachable Main Brush: Yes
Dynamic-speed Side Brush: Yes
Soft Rubber Padding: Yes
Mopping Bracket Detection Sensor: No
Slide In Mop: No
Customizable Room Cleaning: Yes
Multi-level Mapping: 4
Automatic Room Recognition: Yes
Room Naming: Yes
Selective Room Cleaning: Yes
Zone Cleaning: Yes
Real-Time Mapping: Yes
High Precision Map: Yes
Map Saving: Yes
Invisible Walls and No-Gone Zones: Yes
Dynamic Z-shaped Cleaning Patterns: Yes
No-Mop Zones: Yes
Cleaning Route Display: Yes
Mopping Route Display: Yes
Carpet Display: Yes
Carpet Handling Options: Yes
Deep Cleaning Mode: Yes
Voice Control: Yes
Auto-Top Up: Yes
Low Water Level Reminder: Yes
Package Weight: 17.15kg
Robot Size(L x W x H): 353 350 x x 96.5mm
Package Size (L x W x H): 515 509 x x 442mm
Package Contents
1 x Roborock S7 Pro Ultra Robot Vacuum Cleaner (VibraRise Mop Holder and Mop Cloth Pre-Installed)
1 x Docking Station Base
1 x Disposable Dust Bag
1 x Power Cable
1 x Dock (Disposable Dust Bag Pre-Installed)
1 x user Manual
---
Coupon: NNNROBS7PU
Roborock S7 Pro Ultra Robot Vacuum Cleaner (Self-Cleaning & Emptying)
Details
Get it now from GeekBuying...
€729
Roborock S7 Pro Ultra Robot Vacuum Cleaner (Self-Cleaning & Emptying)
Get it now from GeekBuying...
For shipping from Europe (without customs) we choose Priority Line
Don't forget to take a look at the long list of coupons we've been given today by clicking on the link below.
---
If all this is not enough for you and you want something more, then take a look at the suggestions below that GeekBuying has for you.
---
---
To GeekBuying you can find a multitude of products at very good prices, and you have the option of choosing the shipments for your purchases from Their European warehouses, and with Duty Free Priority Line (No customs)Mission.
Their shipments are fast and support all payment methods (PayPal - and all cards).